Apartment rental prices are dropping all over the world. Vacancy rates in places like Manhattan are at the highest level they've been in 14 years. Rent prices in Los Angeles have fallen by over 3% from a year ago. Prices in Lisbon are getting slashed. In markets like Lagos it's not as clear what's happening yet as yearly rent is typically required to be paid up front.
Here is a round up of what's happening in some of the most interesting rental markets around the world. One thing is for sure, if you're a tenant, this is a great time to find yourself a good deal in a new home, renegotiate your existing lease, or get a good discount on your renewal. With a global recession feeling no less than inevitable, it's a great time to have that conversation openly with your landlord.
London
Knight Frank reported that average rental values in prime central London fell by 1.7% in May, taking the annual change to a fall of 3.9%. Meanwhile, the monthly decline in prime outer London was 1.6% in May, producing an annual decline of 4.7%. The quarterly decline of 4.7% recorded in May in prime central London is the largest such drop since March 2009, as the market felt the impact of the global financial crisis.
LonRes the property data company says that while sales prices fell 4.2% during the lock down period from mid-March to the end of May 2020 that rents actually fell by 8.4% across prime London.
To show some perspective on the supply overload of rental property prices which is contributing to rental prices being slashed, this is the number of properties available to rent on Rightmove in SE1 in Southbank – almost double what was available for the past 2 years (courtesy of @DanFareyJones on Twitter):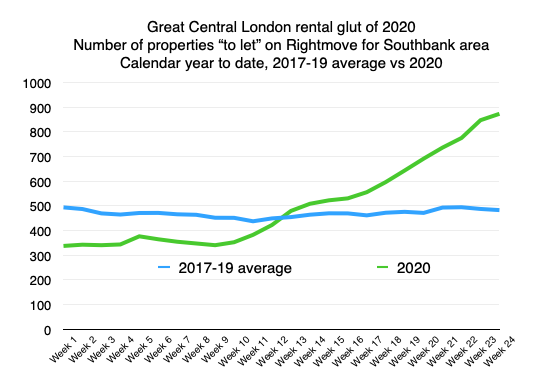 Chesterton's in LettingAgentToday are projecting even better (for renters') and bleaker (for investors' / economists') views that the rental market in London has dropped between 10-15%. Fewer people are willing or able to move to the capital due to the fallout of the Coronavirus crisis. This will result in increasing numbers of landlords being left holding empty, or soon-to-empty, properties. The lower levels of demand are due to several reasons:
– The student market – including the lucrative overseas student market – has dried up as students no longer know if they will be able to study in September;
– Corporate relocations are very low, as most companies continue to ask their staff to work from home and international relocations are put on hold;
– Existing tenants on furlough or worried about their future income are delaying committing to new leases as they consider cheaper accommodation options, including moving back with family;
– Other tenants are renegotiating lower rents with their landlords to avoid the hassle, costs and risks associated with moving.
New York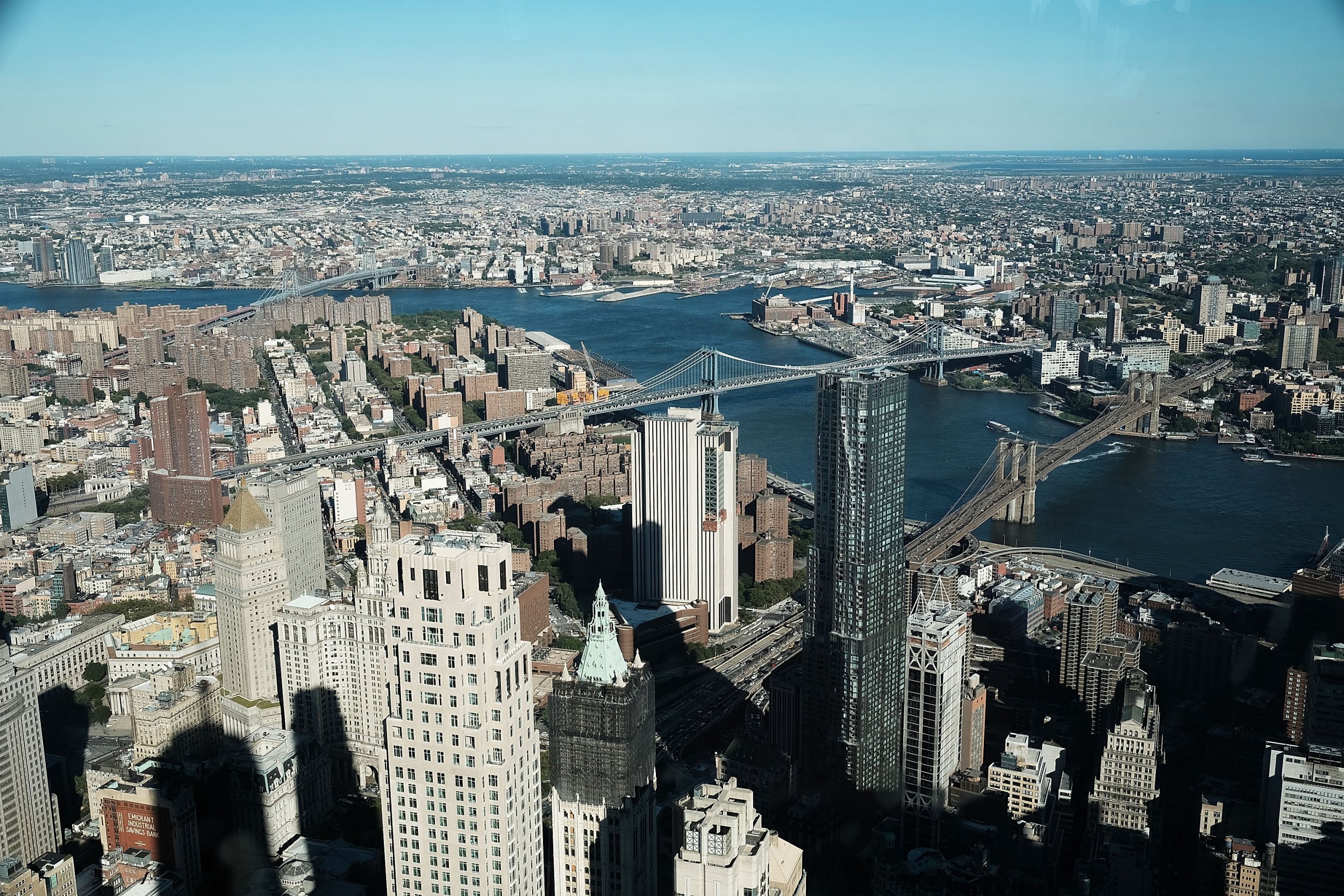 The RealDeal reported that Manhattan's vacancy rate hit a new high in the 14-year history of a monthly rental report as new leasing activity in the borough was down 62 percent last month from a year ago. It was also 54 percent lower in Brooklyn and 61 percent lower in Queens. More Manhattan apartments were left unrented last month than in any month since Jonathan Miller, author of the Douglas Elliman report, began tracking the market in August 2006. The vacancy rate of 2.88 percent was up from 1.65 percent during the same period in 2019. It was 2.42 percent in April. Miller attributes all this to parties beginning to adjust to the new normal of the pandemic.
Despite rising vacancy, rents stayed flat in Manhattan. The median rental price in Manhattan was $3,415 in May, virtually unchanged from $3,413 a year earlier. In Brooklyn, rents last month were 3.3 percent higher than a year ago — $2,921, up from $2,829.
Queens bucked the trend of rents staying flat in most of New York City with median rental prices dropping 5.6 percent to $2,745 from $2,908 a year ago, though the number of landlords that offered incentives ballooned to 65 percent from 33 percent. The value of the concession offered rose to the equivalent 1.8 months of free rent from 1.6 months.
Curbed reports that on listing website Localize.city rents have fallen for 70 percent of apartments listed prior to the statewide stay-at-home order, which went into effect on March 20, according to data gathered by the company.
Those prices have reduced on apartments in all five boroughs with an overall drop in rents between three to five percent: One-bedrooms in Brooklyn on the market before COVID-19 mandated closures, for example, have seen a 4.3 percent decrease in rents on average to $2,700, while across the East River in Manhattan, one-bedroom units have typically seen a 2.4 percent drop, with average rents now at $3,780, according to Localize.city data.
Those may not be mind-blowing reductions, but they're a signal that rents are trending downward, and likely to continue doing so in the midst of the city's public health crisis, says Steven Kalifowitz, president of Localize.city.
"Based on what we're seeing, and anecdotally what I'm hearing, we should expect more rental price cuts in the future," says Kalifowitz. "I expect we will see people either moving to get a better deal on a bigger / better place, or others downsizing to accommodate lower salary expectations." Moving is definitely a challenge at the moment, but it's not impossible, with moving companies deemed essential under Gov. Andrew Cuomo's PAUSE order. What's more likely is once restrictions begin to relax in New York City, which could happen as early as June 13, more renters may consider relocating.
Shanghai
I spent quite a while searching and I could not find any real data on housing prices in Shanghai. I was surprised by this. Even searching for reports from the likes of Knight Frank didn't really turn anything up except for information house prices and house sales. Shanghai has a population of over 24 million people so it was surprising to not be able to relatively easily turn up some information related to the residential real estate market and the rental market here. Would love to know of any great sources for Shanghai. I'd also be interested to hear if it is simply a market with more opaque data round things like rental prices. Let me know!
Lisbon
Portugal has managed the COVID outbreak incredibly well, has seen fewer cases than many other countries due to the Government's lockdowns and also the participation of the people, and thus is increasingly being looked at as a "safe haven" for investment (link). While rents are reducing across a number of regions across Portugal, rents so far continue to hold steady in Lisbon as explained in Property Investor Today.
As of March rental prices were still climbing upwards in Lisbon. Outside of one small drop at the end of last year, this current slowdown of growth in rental prices is the first time in the past few years that Lisbon's meteoric rent price increases have slowed down. Again, it's a good time to be a Lisbonite to try to find a good deal for yourself!
Sydney
More than 1/3rd of rental property's have seen price reductions in Sydney. The median price rent decrease has been 6.4% since the pandemic hit as reported by Domain. Areas with greater exposure to overseas migration, student population and short-term lets were hardest hit. Some areas of Sydney were affected more than others with 36.7 per cent of rental listings in the city and eastern suburb discounted – the highest proportion across all the regions.
Many people were also moving simply because there were cheaper rental properties available. Tenants also shopped around for discounted rental properties in the hope of getting a pet because they believed they had a better chance of approval in a new lease given the current environment.
Lagos
It was fascinating to learn more about Africa's largest metropolitan city, Lagos. With a population of 17.5 million, Lagos has become a hub for innovation, jobs, commerce and of course, housing. What was crazy to find out is that the entire rental market is essentially forced to pay their rent up front as reported by the BBC. There is increasing demand for budget friendly homes as lay-offs continue here as they do in cities and countries all over the world. I couldn't find hard data on rental costs here either but this data will likely be lagging due to so much rent being paid for up front. Would love to hear any feedback on what property rental prices are like here!
Sao Paulo
Much like Shanghai, it was also very difficult to dig up meaninful data on the rental market of another of the world's mega cities, Sao Paulo. It was easy enough to find data on house prices and sales volumes all dropping (ie here in the Global Property Guide) but nearly impossible to find anything for the rental market.
Conclusion
Get your negotiation hat on and find yourself a better deal! This is not only the best time in many years in terms of being in the seat of power, but it's also a really important time to do whatever you can do to cut your living costs so you can survive whatever is coming next. With the second wave yet to come, political uncertainty around issues like Brexit, global lay-offs and unemployment levels now at record highs, it seems inevitable that there is a global recession looming. Have an open and honest conversation with your existing or future landlord and just try to find yourself a deal and price that works for you while hopefully helping reduce some stress on your landlord's part. Your relationship will be stronger for it if you can work together in partnership. Good luck!